>
Home
Events
The Gainesville Church is committed to bringing our community relevant seminars that help meet the spiritual and physical needs of Gainesville. These seminars range from prophecy, prayer, health, parenting, and more.
Join us on Wednesday nights from 6-8pm for a time of praise, fun, and games! All ages are welcome!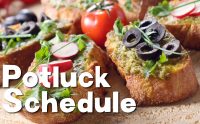 Our church has potlucks after services every 2nd and 4th Saturdays. Check our website for potluck themes and to sign up to bring items.